WV Weddings is the Mountain State's premier wedding resource. We cover everything from real weddings and beautiful venues to creative cakes and fabulous florals. WV Weddings also includes wedding registers and engagement announcements that feature nuptials through breathtaking photography.
Engagement Inspiration
Were you recently engaged or do you know someone who was? Order this Engagement Inspiration Bundle to be inspired by real West Virginia weddings from West Virginia's bridal bible. You'll get two great issues of WV Weddings magazine for just $5 + shipping! That's over 75% off the cover price.
Order Now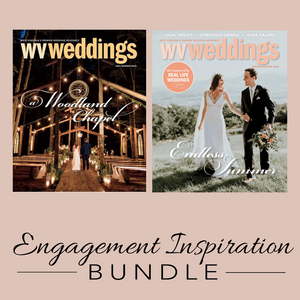 Contact us
1135 Main Street • PO Box 279 Granville, WV 26534 304.413.0104
info@wvweddingsmagazine.com